Residents of Assou Canal, Grande Riviere, Gros Islet are fearful after Tuesday night's gun violence in which two men sustained injuries.
Both men were victims of a drive-by shooting at about 10 pm.
Residents said two shooters, one with a rifle, opened fire from a moving vehicle.
Stray bullets hit a building.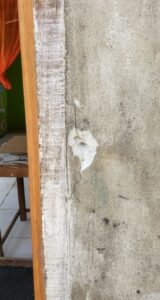 "This is not nice, not in Grande Riviere, not in Vieux Fort, not anywhere. People can't go out anymore. Everybody afraid to go to the supermarket, people afraid to go to a little calypso, people afraid to come out for carnival," one resident told reporters.
"People afraid for everything and what? Young people under the age of thirty taking over our country. What's really happening?" She stated.
"If laws have to change, let's make the laws change and tighten up some slack on what we have to do," the woman asserted.
She also spoke of the need for education reform and proper parenting.
"Men, stop going around making children and not maintaining them and raising our ratio of single mothers in this country," the woman advised.
The Assou Canal resident said Tuesday night's gun violence was terrifying.
She recalled hearing the victims' cries for help.
"It's not easy to see your friends or your associates there lying down and you can't help them or you seeing people that innocent just getting caught up in those crossfires. Maybe the persons that  not really involved. You all know who your people are. Don't come where they have innocent people and do that," the resident declared.
She explained that a shooter or shooters in a passing vehicle opened fire on some men, injuring two said to be in stable condition.
However, the woman said the shooting also impacted individuals in the community.
"I don't think no doctor can heal that," she told reporters.
"The neighbours, I don't even want to know how they feeling about that because shots were heard throughout Grande Riviere," the woman noted.
"I don't know when it's going to stop because I am telling you, this is not the first time we having those things in Assou Canal," the resident said.
She also observed that Tuesday's shooting occurred when business in the community was picking up.
"When this happens it affects everybody," she stated.
And she explained that had the drive-by shooting occurred where more people usually hang out; the outcome would have been worse.