In the early hours of Monday morning, Bandits attacked Massy Stores Supermarket in La Fargue, Choiseul, and made off with several items, including an ATM, according to reports.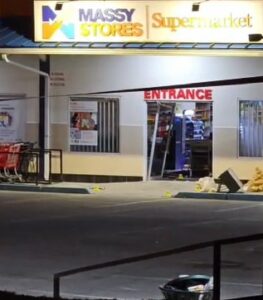 The initial reports indicated that four bandits were involved in the incident at about 2:00 am, and several individuals are assisting the police with their investigations.
Information obtained by St. Lucia Times indicated that the bandits held up a security guard before going on a rampage in the supermarket, packing their vehicle with stolen items.
After repeated attempts, they dislodged the ATM with a rope tied to their vehicle and escaped.
Police investigations are continuing.