Sky News:-  A Catholic bishop accused of repeatedly raping a nun has been arrested in the southern Indian state of Kerala.
Franco Mulakkal, 54, was formally detained on Friday after police questioned him for three days in the southern city of Kochi.
He was accused of raping a nun 13 times between 2014 and 2016.
The woman, 44, filed a police complaint in June, after claiming the Catholic Church had taken no action despite repeated appeals.
Mulakkal, who is the bishop of the northern Indian city of Jalandhar, has denied the accusations.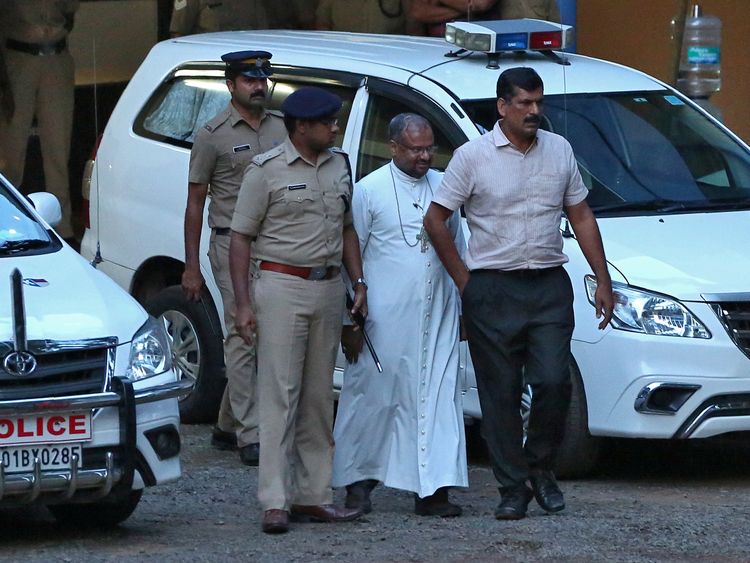 He said the nun was angry because he ordered her to be disciplined.
Police said he will appear in court on Sunday.
Mulakkal wrote to the Vatican last Sunday asking to step down temporarily as demonstrations and calls for his arrest grew.
The Vatican accepted his request on Thursday.
Following the allegations, dozens of nuns, activists and advocates have protested outside a court demanding his prosecution.
The nun alleged that Mulakkal raped her at a guesthouse in May 2014 and later attacked her on several more occasions.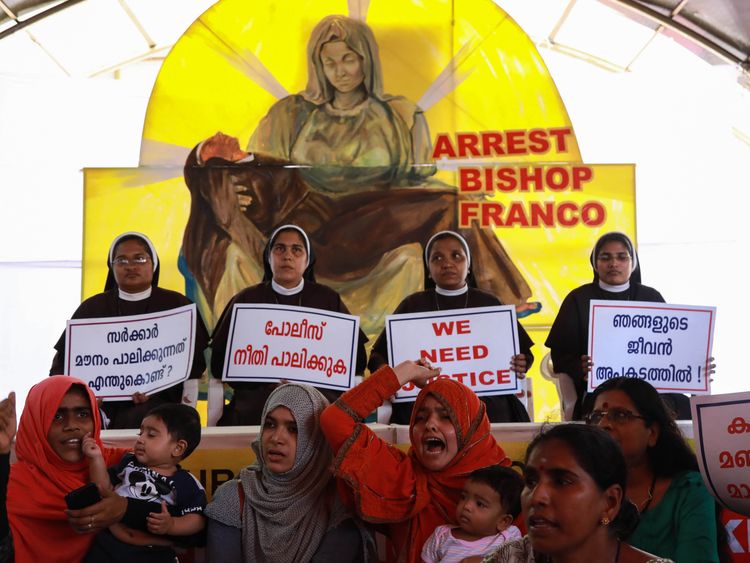 She said she was forced to approach police because church authorities did not take action after she reported the attacks.
Earlier this month, she alleged that the bishop was using "political and money power" to "bury" the case and was seeking his removal in a fourth letter to the Vatican's representative in New Delhi.
She wrote: "We experience neglect from every side. We feel the Catholic Church is having concern only for the bishops and priests. We would like to know if there is any provision in the Canon Law for justice for nuns and women."
Police in India are now investigating the charges of rape, illegal confinement, unnatural sex and intimidation.
A judge would decide whether Mulakkal would be formally charged.
India has been shaken by a series of sexual assaults in recent years, beginning when a young woman was fatally gang-raped on a New Delhi bus in 2012.