Guyana Chronicle:–  It has been confirmed that at least four passengers on the Fly Jamaica OJ256 Toronto-bound flight which crashed on emergency landing this morning have sustained injuries to their neck, shoulders, ribs and legs.
Just around 03:00hrs on Friday morning the plane of 118 in returning to the Cheddi Jagan International Airport (CJIA) just moments after takeoff due to 'hydraulic issues' crashed into a fence off the runway coming to a halt at heap of sand.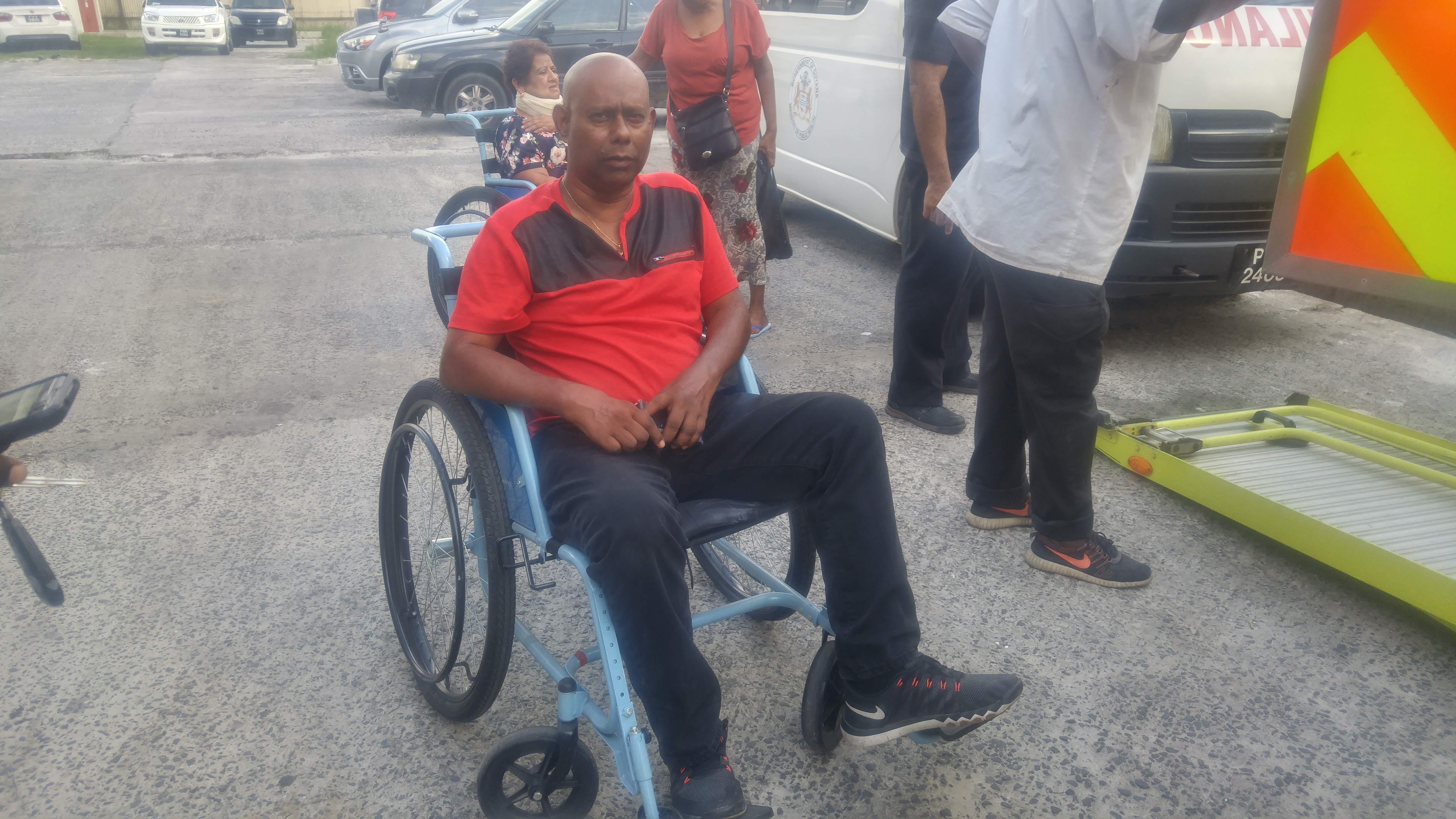 The Guyana Chronicle spoke with four of the injured passengers who were stationed at the Diamond Diagnostic Center as they were being transferred to the Georgetown Public Hospital Corporation (GPHC).
"The plane had a problem and they still took it up in the air. 45 minutes in the air the pilot decided to come back to the Timehri Airport but as the plane lands down it bounces and it starts to trip out; like you mash brakes and the brakes failed and it crashed," Davanan Sukhram, 55, recounted.
He went into detail on how he felt at the time and the instinct reaction of the other passengers on board.
"We were panicked. When I was sitting down one of the doors from the overhead compartments fell and hit me and several other people on the head, on the neck. Then we were all running with speed and in excitement in the plane to catch the door to get out because there was smoke. My ribs are squished up from pushing and my neck, my hands, my shoulder and foot muscles are killing me. We had to come out and walk in the sand. We had to walk about a mile from there to catch the terminals. It was very frustrating and at that time we did anything to survive. I can't remember seeing [the two infants] because it was very confusing at that time," he told the newspaper.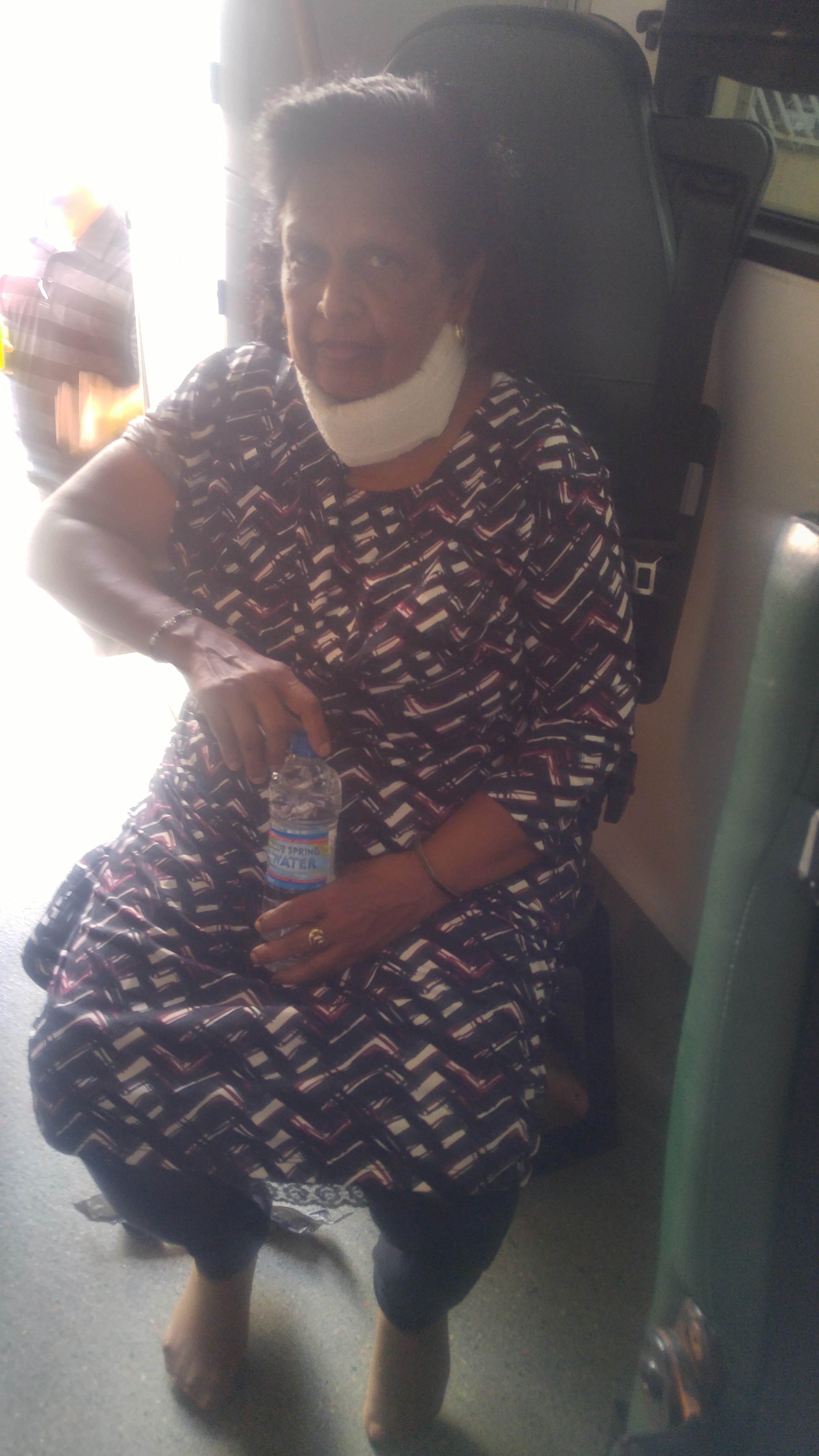 Injured too was 62-year old 'Babs' Curry who, seated in a wheel chair, recounted her experience as one of fear and chaos where several persons lost items they had on them at the time.
"It was terrible. Before we left they said that there was a problem with the door so we stayed there for a while, maybe half an hour and they fixed it. After that the plane took off and when we got about 20 minutes in the air we started to hear this noise like a big growling.
He [the pilot] said he was going to come back because it wasn't safe for us because we're going to go over water so he decided to come back and said it's going to take 20 minutes to get back. When we got back the landing was terrible. I don't know what happened. We started screaming and everything when coming down we heard this growling noise and this grazing on the sand. There was smoke and we had to slide down the emergency slide. Some people lost their shoes; [my friend] glasses fell out.
It was chaos, there was no light. I took my phone and I tried to find my way among other people I could see standing around," Curry said.
Explaining why she received the brace on her neck, she said: "I got my injury from the impact because more than twice it was a hard hit.
Placed in the ambulance along with Curry was 67-year old Bibi Ali who also sustained injuries to her neck and was seated somewhere in the middle of the plane when it encountered difficulties.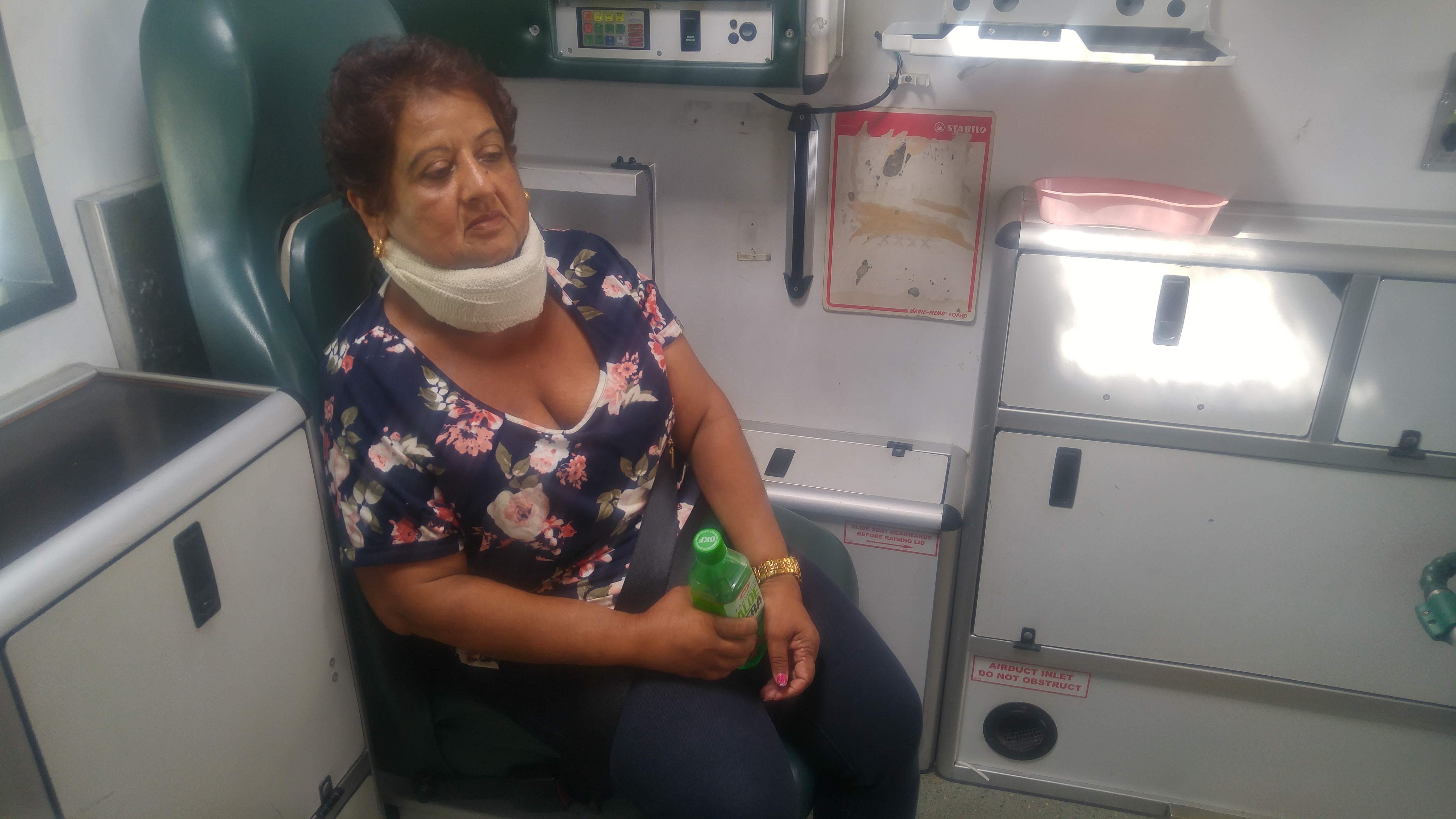 "When I was sliding down the plane we fell and everybody started to pack on you. I lost my glasses and I couldn't really see. When I fell everybody started trampling me, on my back and my foot, and two guys tried to help me. Everybody was trying to get out when they saw the smoke in the plane," she said.
Meanwhile, 57-year old Janice Adams who was placed in a stretcher managed to tell the newspaper that she received injuries to her legs.
"I landed on my knees. I jumped out of the plane by the window and I landed on my right knee," Adams said.
Sukhram is now hoping to get word from the airlines regarding compensation for his injuries and discomfort.
Although he believes the pilot saved the day, he stated that he doesn't think that the plane should have left the ground in with its challenges.
"I was scared that the plane wasn't fit to fly in the first place. Because they had a problem before we left. When the plane was lifting you could have heard the grinding sound of the plane and when the plane was coming back it was struggling to land but the pilot did an excellent job. He did the right thing to turn back the plane or else we would have crashed in the sea and everybody would have died."
Sukhram said that it took emergency personnel between 15 to 20 minutes to arrive.
He and the few other injured passengers are now stationed at the GPHC receiving medical attention.