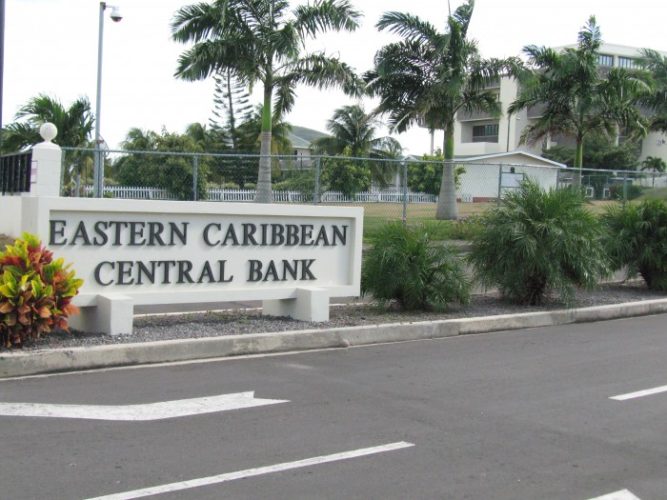 The St. Kitts-based Eastern Caribbean Central Bank (ECCB) has expressed concern at the increase in commercial banks' fees and charges across the Eastern Caribbean Currency Union (ECCU) and the effects on depositors.
But the ECCB, which serves as a Central Bank for Antigua and Barbuda, Dominica, Grenada, St. Lucia, St. Vincent and the Grenadines, St. Kitts-Nevis, Montserrat and Anguilla, said, that it does not have the powers to regulate commercial banks' fees and charges.
"As a consequence, individual banks determine their fees and charges," the ECCB said in the statement, noting that Article 34 of the ECCB Agreement permits it to regulate the minimum interest rate paid on savings deposits.
The statement came as account holders at RBTT Bank in SVG continued to turn out in large numbers to withdraw their savings following the announcement by the Trinidad-based bank of increased fees for services.
RBTT said that effective May 23, account holders here would pay a monthly service fee of EC$25 (One EC dollar =US$0.37 cents) on savings account. Senior citizens will pay EC$12.50 a month and person under the age of 17 will not be charged.
Many customers have openly complained that the fees were introduced without any discussion and as a result they were taking out their funds from the bank. A similar situation is also being experienced in St. Kitts-Nevis where the bank also operates.
"Twenty-five dollar out of my money is way too much," one woman who was among scores of persons queued up outside a packed RBTT Bank.
In its statement, the ECCB said commercial banks operating within the ECCU are encouraged to explain to their customers and the public at large, their rationale for the increases in fees and charges.
"The ECCB encourages customers to remain calm, carefully consider their banking options and determine what services best meet their needs at this time," the ECCB said.
In a statement, the Trinidad-based RBC Royal Bank said it is "aware of concerns expressed by some of its clients regarding the recent announcement of changes to its suite of Personal Banking accounts.
"We continue to communicate with our clients regarding these changes, to address their questions and assure them of our continued commitment to serving them, and to thank them for their business with us."
RBC Royal Bank said that as a responsible financial services company with more than 100 years of service in the region, and as part of one of the world's largest banks, the Bank is working to deliver value to our clients, shareholders and key stakeholders.
"In a recent review of its products and services, RBC Royal Bank recognised opportunities to improve upon its existing deposit product offering to clients in the Eastern Caribbean, while ensuring that the suite provided value for customers based on their lifestyle, banking needs and financial goals," the statement said.
It said the changes announced include the establishment of new age-based accounts tailored to encourage savings among young people, as well as to continue to provide a differentiated service to our seniors.
The ECCB statement noted that the issue of bank fees and charges has been discussed by the Monetary Council, the highest decision-making body of the ECCB and that last November, the Council, comprising  the ministers of finance within the OECS approved several recommendations related to bank fees and charges, including establishing an Office of the Ombudsman for Financial Services to mediate on behalf of customers with complaints and address other dispute resolution matters.
The Monetary Council also approved the establishing of a Working Group to review commercial banks' fees and charges and to report its findings and recommendations to the Monetary Council.