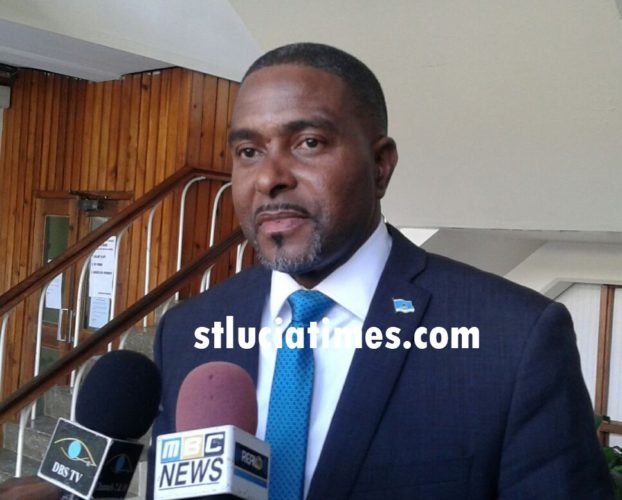 The Saint Lucia government has no intention of increasing debt, Minister in the Ministry of Finance, Doctor Ubaldus Raymond has asserted.
Raymond made the Allen Chastanet administration's position clear as he spoke with reporters upon arrival for a session of the Senate today.
The Senate had before it for consideration two money bills and two motions.
"The motions would be that of asking parliament to provide the government advances and the other money bills are that of the reissuance of our debt," the minister disclosed.
Raymond told reporters he wanted to make it clear that what was being done was not requesting the government to increase on debt.
"We are just rolling over previous debt that would be and have expired this year," he indicated.
According to Raymond, the government is undertaking a very aggressive approach in ensuring that the debt level does not increase.
In this regard he revealed that he had held meetings with various heads of department within the Ministry of Finance to express the policy sentiments of the government with respect to debt management.
He recalled that there had been a debate in the parliament about the new administration coming to increase debt.
"I believe this was done by the opposition deliberately, knowing very well that there is no increase in our debt stock," Raymond declared.
He said that currently, Saint Lucia's debt level is about 2.9 billion dollars.
The minister said the government, in addressing what he described as the "serious" debt problem, has in mind replenishing what is called 'the sinking fund.'
"The sinking fund basically is money we put aside to pay off the debt when that debt matures,"  Raymond explained, adding  that the measure was just one approach.
He said the other approach is looking at how Saint Lucia's debt stock is profiled.
"We have a situation where the government goes to financial markets every six months – every year, to try and raise funds to finance the operations of government – this is putting a tremendous burden on our cash flow, to the point if we miss just one of those payments we would be in serious crisis as far as the financial market is concerned," Raymond told reporters.
He said as a result Saint Lucia will be converting its short term debt instruments into longer term debt instruments – into bonds and extend it even to loans.
"What that will do is free us of paying on the huge interest monthly and even yearly and it will further our payment period and at the same time reduce our monthly and yearly interest payments," the minister noted.
He revealed that currently, Saint Lucia is paying one hundred and eighty million dollars debt-wise on interest.
Raymond said the figure moved from 110 million four years ago to 180 million.