Guyana President and Commander in Chief of the Armes Forces, Dr. Irfaan Ali, promoted a Presidential Guard who sustained five stab wounds when a man stormed State House.
The Guard, Telon Perreira, received a promotion to the rank of Corporal.
President Ali and Acting Police Commissioner Clifton Hicken visited Perreira in the hospital, praising him for his bravery and courage.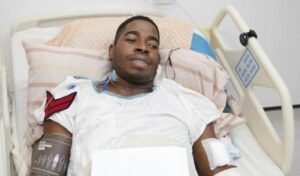 According to Guyana police, on December 15, a Nigerian national turned up at President Ali's official residence at about 7:30 am, confronted the security detail, and demanded to see the President.
The man became agitated, pulled out a knife, and stabbed an officer.
He later disarmed a female guard and discharged several rounds.
Other officers returned fire, injuring the assailant.
The attacker and the wounded Presidential Guard were hospitalised, and the matter is currently under investigation.
Commander-in-Chief of the Armed Forces, President Dr. Irfaan Ali, pins the new rank on Presidential Guard, Telon Perreira (Office of the President photo)