The Saint Lucia Fire Service (SLFS) has expressed concern over a recent spike in vehicle fires, asserting that some of the causes are poor vehicle maintenance and suspected arson.
"From our investigations, we have noticed that among the reasons are lack of proper maintenance and suspected arson," Acting Deputy Fire Chief Ditney Downes told St Lucia Times.
However, Downes explained that proving arson is difficult because the fires usually destroy the vehicles before firefighters arrive.
The senior SLFS official explained that lack of proper maintenance causes overheating, fuel leaks, and electrical system failures.
Downes said the SLFS had  also witnessed a lot of battery fires in electric and hybrid vehicles.
And he advised motorists to schedule proper, regular maintenance.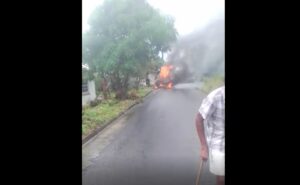 In addition, Downes said should motorists smell gasoline in their vehicles while driving, they should pull over and get it checked.
"We have seen a lot of vehicles with a lot of fluid leaks, but people ignore these things. This is another cause of fires," he told St Lucia Times.
Downes advised motorists to obtain a dry chemical extinguisher, explaining that it is appropriate for all classes of fires.
"If you realise your vehicle is on fire, you realise some smoke is emanating from your engine compartment, we are asking that you pull over as soon as possible and turn off the engine," he stated.
"Get out of the vehicle immediately and stay at least 100 feet away from that vehicle and then call the fire department. Do not go back to get anything," Downes warned.
He said there was a possibility that the vehicle could explode and the blaze could spread.
Headline photo: Vehicle fire – Barre de L'Isle (November 11, 2022)