A sixty-two-year-old minibus driver was in stable condition after his vehicle veered off the road at Forestiere, Castries, plunged down a slope, and ended up in a drain.
Saint Lucia Fire Service (SLFS) Communications Officer Stacy Joseph told St Lucia Times that emergency responders from the Babonneau fire station responded with a fire truck and an ambulance after receiving a distress call at 6:30 am.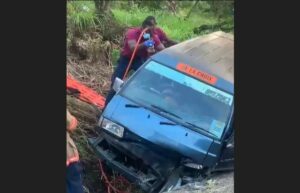 Joseph explained that the emergency responders extricated the driver, the sole vehicle occupant, and transported him in stable condition to the OKEU Hospital.
She disclosed that he sustained minor injuries.
There are no further details at present.
Headline photo: Stock image