Well-known Saint Lucia businessman Sir Michael Chastanet has expressed shock at the death of Cap Estate resident and businesswoman Maria Buchner.
Police have described her passing as a 'suspicious death'.
Buchner, who operated Blue Reef Real Estate, was found in her home at about 3:30 pm on Monday.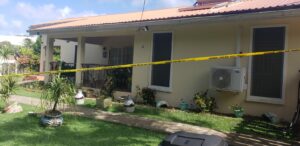 Sir Michael's complete statement on her passing appears below:
The recent news of the passing of Maria Buchner was indeed a great shock and a loss to many of us. 
She was found dead in her home at Cap Estate, Gros Islet yesterday afternoon.
Maria was a friend, a tenant and my real estate broker who operated Blue Reef Real Estate for almost fifteen years.  She was one of the most professional and honest individuals I have dealt with and she brought a European standard to all aspects of her business based on her German background. 
Maria was the victim of an assault situation some months ago and suffered immensely from that incident. However, with her indomitable spirit, she remained strong and focused, which allowed her to return to the passion of her real estate brokerage.
I extend my deepest condolences to her family.  She will certainly be missed.