The President of the National Principals Association (NPA) has responded in the aftermath of a viral video of an incident involving a police officer and a student in uniform in Castries.
At one point during the video on social media, the officer, who was in uniform, held the student against a wall.
According to reports, the incident occurred on Friday in Castries.
It attracted a small crowd, mainly comprising students in uniform.
But it was not immediately clear what led up to the point when the video recording began.
However, the incident video was one of several police-involved recordings appearing on social media in the past 24 hours.
Other videos showed armed police officers arresting a man amid a hostile crowd urging the law enforcers to let the suspect go.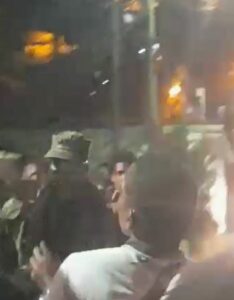 In one of the videos, what appeared to be gunshots can be heard after the police vehicle departs with the suspect.
"Di dwags ring it behind 12 ih," the caption on that video read, accompanied by a laughing emoticon.
NPA President Valerie St. Helene-Henry told St Lucia Times that the video involving the police and the student and the others featuring the police and the public highlight several issues.
"We saw a police officer more or less trying to get the attention of a young schoolboy, but it's the manner in which it is being portrayed in the video. It is a concern for us that there's always this kind of incident between the police and the public, including students," St. Helene-Henry stated.
"I also think there is a certain level of disrespect when it comes to the police and that is at an alarming rate," the NPA President lamented.
She said she had seen the other police-involved videos and felt that the matter was a national issue that needed addressing.
But, regarding the incident involving the policeman and the student, St. Helene-Henry indicated that there were suggestions that the NPA could meet the police to discuss the way forward.
" I think sometimes, because of peer pressure with the young ones, they tend to retaliate instead of being calm, and they want to prove something to their peers who are around. And they do not know that a police officer is trying to restrain them or get their attention," the NPA official observed.
She indicated that a youngster needs to calm down and follow instructions in such a scenario.
On the other hand, St. Helene-Henry observed that the police need to know when to exercise restraint when dealing with a student.
"Even in the school, we are aware that there are some children who will be rebellious and lack discipline, but there is a manner in which you should deal with young people, whether it's students or whatever age," she told St Lucia Times.