Gros Islet emerged champions of the SLFA Inc. Island Cup, Premier League with a hard fought 3 – 1 victory over the front runners La Clery.
They were led by the tournament's top goal scorer Troy Greenidge with a brace in the 21st and 35th min the former being a penalty and Aaron Richard in the 48th min.
Rayham Cooper scored for La Clery in the 47th min.
In the Third Place Play Off, Dennery got past Canaries 2 – 0 with goals from Elijah Joseph in the 1st min of added on time in the first half and Newton Marshall in the 56th min.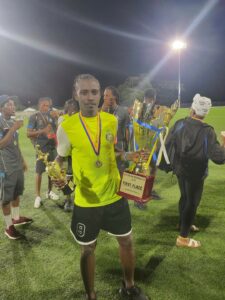 Troy Greenidge of Gros Islet was awarded the Trophy for the most goals in the tournament, having scored 14 goals.
In an effort to help identify available talent at the national level for upcoming Youth Championships, the SLFA Inc. have organized trials for Girls Under 14 at its Technical Centre in the Mabouya Valley, Dennery.
The trials will take place on Saturday 25th February 2023 from 9:00 am during which the coaches will undertake to identify the players who are suitable for selection to undergo further/advanced training.
The Girls must not be born before 1st January 2009 The Caribbean Football Union (CFU) will once more hold its Challenge Series of Championships in 2023 which are annual championships for boys and girls at the Under 14 Level.
Each Member League is responsible for providing transportation and light refreshments for its girls on the day.
The Saint Lucia Football Association Inc. will undertake to make a contribution towards these expenses later.
Ms. Mary Campbell of the Women's Football department will follow up with you to ensure your leagues participation.
SOURCE: Saint Lucia Football Association Inc. Headline photo: Team Gros Islet