Gun violence and road accidents kept the Saint Lucia Fire Service (SLFS) busy as the country celebrated its 44th anniversary of independence on Wednesday.
One man succumbed to gunshot wounds in Soufriere, and another male was in critical condition after an incident at the waterfront gas station in Soufriere at about 3:40 pm.
Police identified the deceased in the Soufriere shooting as 28-year-old Kevin St. Hall of Jacmel.
Eleven males are currently in police custody concerning that incident.
Hours later, as police investigated a shooting along the Bexon Highway, an officer-involved shooting claimed the life of Negel George, a twenty-two-year-old resident of Paix Bouche, Babonneau.
A police statement said a motorcycle failed to stop at the scene, entering the restricted area.
"Several attempts to stop the rider by officers proved futile," the statement observed.
As a result, the discharge of a single round of ammunition injured the rider and the pillion rider, it said.
According to the police, the rider, whose leg was injured, was later pronounced dead at the OKEU Hospital.
The gun incidents continued into Wednesday night in the Sandy Beach area of Vieux Fort, where two males, identified as Denzil Joseph, 27, of Cantonement, Vieux Fort, and Kareem Mc Farlene, of Bruceville, Vieux Fort, died after sustaining gunshot injuries.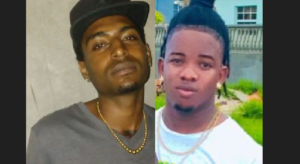 The Island also recorded vehicle incidents.
"What was supposed to be a day of celebration for the people of Saint Lucia became a very traumatic day for the island with a series of unfortunate events," Communications Officer Stacy Joseph said in reporting on the emergency responses.
In addition to the gun violence, the SLFS also had to respond to vehicle incidents.
They included a head-on collision at Thomazo between a motorcycle and a minibus at about 1:30 pm, resulting in the hospitalisation of the rider.
In addition, a motorcycle struck a man at Anse La Raye and emergency personnel transported him to the OKEU hospital.
A similar incident occurred in Aupicon at 8:50 pm.
Emergency personnel also transported four people to the hospital after a minibus overturned in Soufriere.
And there was also a multiple-vehicle accident along the Mon Repos Highway.
The police reported that pedestrian Nicholas Modeste aka Nac or Lazy Master 61, from Mon Repos, was struck by one of the vehicles and succumbed.
Headline photo: Stock image