Deputy Police Commissioner Wayne Charlery has told the launch of a human trafficking campaign here that Saint Lucia criminal gangs, of which there are many, are thriving on trafficking firearms, narcotics, and humans.
"The challenge is up before us to offset what is happening in Saint Lucia. We must take a hard, long look at human trafficking as used by the gangs to make the money to buy the guns to kill our people," he observed.
Charlery recalled that for some 20 years, the local crime situation has been very violent, with homicides skyrocketing every year.
The senior cop told his audience that criminal gangs were at the heart of violent crimes.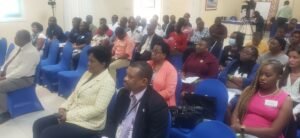 And he explained that recent events in Vieux Fort, where there was a deadly gun violence spike, illustrated how volatile and ugly the situation could become.
"They have thrived with firearms trafficking, narcotics trafficking, and of course, human trafficking," Charlery said regarding the criminal gangs.
"So we are endeavouring to do certain things when it comes to the narcotics and the firearms – they're not people," he explained.
"The gangs are involved in human trafficking. This is how they make their money. We need to develop and implement a regime that will be able to counter what the gangs are doing on all fronts," the Deputy Police Commissioner explained.
On December 30, 2022, the Major Crimes Unit executed search warrants at various locations, discovering four human trafficking victims.
Charlery said the four foreign nationals, who have since migrated, were forced to perform at an adult entertainment establishment.
On January 16, 2023, police arrested and charged the establishment's owner.
The court granted him $100,000 bail with several conditions and adjourned the matter to April 21, 2023.
"As a police force, I can tell you, in terms of investigations and so on, we are in the embryonic stages of human trafficking. So to date, this case would be one of the clearest cases we have had where you have victims, you have a perpetrator, you have gone to court and it is clearly human trafficking," Deputy Commissioner Wayne Charlery told his audience.
Headline photo: Internet stock image