It was a day to remember for Saint Lucia, as they capped off a perfect 2022-23 Concacaf Nations League with a 3-1 home victory over Dominica at the Daren Sammy Cricket Ground on Monday night.
Saint Lucia joins Puerto Rico as the only other team in the entirety of the current Concacaf Nations League to finish with a perfect record, and have been rewarded with promotion to League B and a ticket to the 2023 Gold Cup Prelims this summer.
The Group C champions got on the board in the 18th minute, as Gregson President netted a curling shot from the right wing after a beautiful cutback onto his left foot. An impressive 40th minute half volley from Kurt Frederick near the top of the box stretched the lead to 2 – 0 going into the break.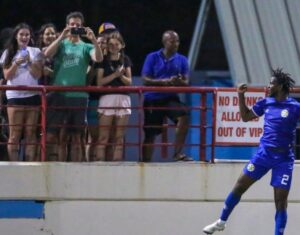 In the 62nd minute, Frederick scored another goal from a similar position, though this one took a deflection and bounced out of the goalkeeper's reach.
Dominica cut the deficit to 3-1 in the 85th minute when Briel Thomas slotted home a penalty.
But the day would ultimately belong to the hosts, who saw out the rest of the game and celebrated their well-earned 3-1 victory in front of the home fans.
Dominica finishes the tournament with two draws and two losses and begin to look forward to the next cycle.
Meanwhile,  the National Under 20 Female team continue its preparation to participate in the Under 20 World Cup Qualifiers in Nicaragua from the 14th – 23rd April.
To this end, a representative team and officials will be travelling to Barbados on the 29th of May, where they will engage in two Friendlies on 31st March and 2nd April 2023.
The team is as follows
Star Auguste
Theon Auguste
Sabrina Avril
Trina Bussette
Eto ' oa Grey
Choral Herman
Giana Hilton
Naisa John
Harmanie Jones
Freegeanne Joseph
Jerddel King – Emery
Arnicka Louis
Shakina Polius
Faith Regis
Aline St. Ange
Chrisanne St. Croix
Anaya St. Rose
Shaniya Scott
Makhaya Smith
Kyla Solomon
Clorie William
The Technical Team is as follows
Ms. Examin Philbert
Mf. Emmanuel Bellas
Ms. Ellaisa Marquis
Mr. Wade Clovis
Mr. Joshua Lamb
Mr. Cyril Cess Podd
Dr. Natasha Innocent
SOURCE: Saint Lucia Football Association Inc.