Saint Lucia-born Gabriel Allahdua, who spent four years as a seasonal migrant farm worker in Canada, has published a book that exposes the injustices those workers face and highlights measures to improve the situation.
The title of the approximately 225-page book that Between The Lines published is : 'Harvesting Freedom'.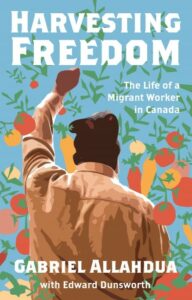 Released last month, it is available at bookstores in Canada and on Amazon.
"Injustice is what we face regarding our living and working conditions," the author told St Lucia Times.
"Not having the same rights as a Canadian, we face exploitation. We don't get fair treatment although we go above and beyond," he disclosed.
Allahdua currently does outreach work with migrant workers in Canada through the government-funded group – The Neighbourhood Organization, providing the migrants with support and information.
He said migrant farm workers find themselves between a rock and a hard place.
Currently a Canadian citizen, Allahdua observed that conditions such as high unemployment and a family to support force people to leave Saint Lucia for Canada.
But he said once in Canada, the migrant farm workers are afraid to speak because they fear deportation.
"It's not getting any better for migrant workers," Allahdua told St Lucia Times.
Allahdua went to Canada in January 2012 after losing his livelihood when Hurricane Tomas devastated Saint Lucia.
In Canada, he worked in a greenhouse in Leamington, Ontario, growing and harvesting tomatoes and organic sweet peppers for eight months of the year from 2012 to 2015.
Allahdua has since become widely recognised as an outspoken worker's rights advocate in Canada and is Activist in Residence at the University of Guelph.
"I have dedicated my life towards a Canadian food system that's healthy, sustainable and just and I will do whatever is in my power to see that I achieve that," he told St Lucia Times.