Prime Minister Philip J. Pierre has called for a national resolve leading to a more compassionate society in Saint Lucia after four people were shot dead in Vieux Fort.
Three, including a toddler, succumbed to gunshot injuries on Saturday in two separate incidents, and the following day a woman was shot dead at her home in Bruceville.
"As we mourn and seek justice for the families who have lost loved ones to this senseless gang violence, let us also resolve to be a more compassionate society," Prime Minister Pierre, responsible for National Security, wrote on Facebook.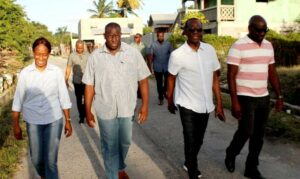 The Facebook post included several photos of the PM, accompanied by Vieux Fort North MP Moses Jn Baptiste, Police Commissioner Crusita Descartes-Pelius, and other officials.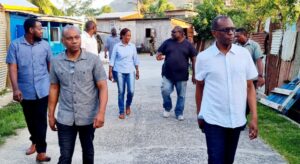 The delegation visited Vieux Fort on Monday.
Pierre noted that Bruceville, Vieux Fort residents, like other Saint Lucia communities, are men and women who want the best for their children.
The Castries East MP observed that Bruceville  also has young people who aspire to live happy and fulfilled lives.
" We can, and we must do better; Saint Lucia is our home," Pierre declared.
(All photos courtesy PM's Facebook page.)