Former Gros Islet MP Lenard' Spider' Montoute has reiterated calls for the immediate sacking of Saint Lucia's National Security Minister, Prime Minister Philip J. Pierre, amid a current crime spike.
Montoute, the Public Relations Officer of the opposition United Workers Party (UWP), was addressing Sunday's party event in Soufriere.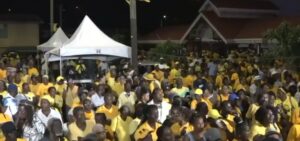 "We need a Minister of National Security who knows what he is doing, who knows how to bring the situation back under control and we have seen that the one who is here now has failed miserably," he declared.
He called on Prime Minister Pierre to fire the National Security Minister with 'immediate effect'.
"If you agree with me say 'Fire', "Montoute told the gathering, to which they responded, and he declared he believed the message was loud and clear.
The former Minister noted that the crime situation in Saint Lucia continues to escalate.
And he referred to the most recent fatal shooting in Bexon in the wee hours of Sunday morning.
Police have identified the deceased as Yannick Kevin Jean, also known as 'Menace' of Crownlands, Bexon.
He sustained multiple gunshot wounds at his home.
"The numbers keep mounting. We have twenty-nine murders – that's official. The official record is twenty-nine. I know some of you know there are more than that," Montoute told the UWP convention attendees.
"Twenty-nine murders in Saint Lucia, and we are just halfway through April," he observed.