Belize opposition leader and former rapper Moses 'Shyne' Barrow has declared that he and his Saint Lucia counterpart, Allen Chastanet, do not need politics.
"We elect politicians who care about themselves – cronyism, self-enrichment and corruption. In Brother Chass you don't have to worry about that. Brother Chass, like me, we don't need politics," the Grammy-award-winning former rapper told supporters of Saint Lucia's opposition United Workers Party (UWP).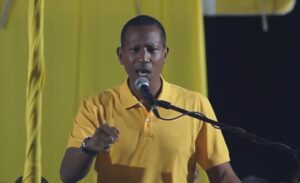 Barrow spoke at a UWP gathering in Soufriere, where the party held its national convention Sunday.
He said he felt humbled to call Chastanet, the next Saint Lucia Prime Minister, his friend.
The Belize opposition leader disclosed that he had met Saint Lucia Prime Minister Philip J. Pierre.
As a result, he declared that he knew both Chastanet and Pierre.
But he explained that Chastanet would be the next PM because of his vision, empathy, compassion, and love for the people.
Headline photo: Allen Chastanet and 'Shyne' Barrow embrace on stage.