Currently ranked #1 locally in the U14 & U16 categories respectfully and #23 regionally (COTECC) Alhil Cyril student of the Leon Hess Comprehensive Secondary School has gone out of his way to ensure the St Lucia flag is among the rest flying high with amazing results at the recently concluded Trinity Cup in Trinidad & Tobago.
Cyril was the only St Lucian in the tournament with no entourage or support team. The 12 year old competed in the U14 event claiming his spot in the main draw after winning 1 of the 2 singles matches played to qualify.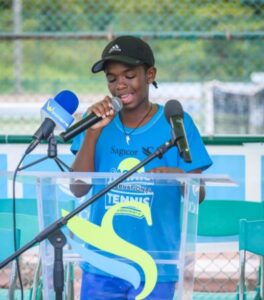 Because of his regional ranking he was seeded #2 in the draw.
His first single was against his doubles partner from Trinidad & Tobago Jacob Jacelon
winning in straight sets 4-2 4-1. He then faced Jovan Garibana losing in straight sets 4-1 4-
2.
His first main draw match against Brian Harricharan was very intense but he was able to win in straight sets 6-4 6-4. To get to the semifinal Cyril was again challenged by Jovan Garibana who defeated him in the first round (round robin) in straight sets.
Cyril was down in both sets in what seemed to be a walk in the park for Garibana. Cyril struggled to keep up with Garibana and was able to as he was determined to advance to the semifinal.
Cyril got his revenge defeating Garibana in straight sets 6-4 6-4. Brandon Brigewater from Curacao put an end to Cyril's winning streak in the singles defeating him the semifinal
in straight sets 6-3 6-4.
This did not dampen Cyril as he and his partner Jacob Jacelon won the doubles title.
The twelve year old was very impressed with his performance and thanks his parents for ensuring they provided him with the opportunity to travel to compete, his host the Jacelon family for having him, his Coach, Coach Vernon, the National Tennis Centre and all his family friends and well-wishers.
Cyril continues his regional tour in Barbados as he will be competing in the Powerade COTECC Tennis Tournament from 15th -21st April. We will keep you updated on his progress.
SOURCE: St. Lucia National Tennis Centre