Police have found a vehicle belonging to Omar Defreitas in a Cap Estate pond.
Defreitas and his vehicle disappeared on January 6 when he left a staff party at the Sandals Golf and Country Club at Cap Estate.
"We have responded to a report in the Cap Estate area, the golf swamp area and so far we have discovered a vehicle, that of Mr. Defreitas," Deputy Police Commissioner Ronald Philip told reporters.
Philip said the discovery occurred at about 7:00 am, and police were processing the scene.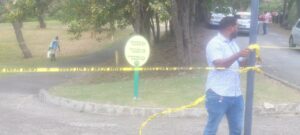 "Since we were able to confirm the number as that of the missing vehicle from January 6, we are treating that as a homicide which is customary," the senior police officer explained.
At the time he spoke, the vehicle was partially submerged.
As a result, Philip said he could not confirm what was inside.
"The possibility exists there may or may not be a body. Not until we take the vehicle out of the water then I'll be able to confirm, he stated.
He disclosed that the investigation into the disappearance of Omar Defreitas and his vehicle has always been active.
"With missing persons, you just never know. We have searched islandwide. We have been searching for the vehicle," Philip stated.
"We have had a dry spell so these swamps in the area, some of the water levels would have dropped," Philip told reporters.
He recalled that searches, backed up by air support, have occurred in the entire area.
And Philip told reporters that Marine Police divers were in the water.
However he observed that the divers were not crime scene officers but could confirm basics such as the vehicle number plate.
Nevertheless, Philip explained that once the vehicle was out of the water, there would be a thorough investigation by Crime Scene officers.
"We have to preserve the integrity of the so-called exhibit. We may very well be dealing with a homicide investigation or it may very well be an accident," Philip stated.