Minister for Ecclesiastical Affairs Hon. Joachim Henry has offered commendation to yet another religious organization, for lending its voice and throwing its weight and support behind efforts at standing up and denouncing the spate of gun violence and other
heinous crimes plaguing the island.
Minster Henry heaped high praise on the Roman Catholic Church, for what he says is the
institution's bold stance demonstrated on Sunday, April 16, 2023 when church leader The Most Reverend Archbishop Gabriel Malzaire, led a March for Peace through sections of the southern town of Vieux Fort.
"We as Ministers of government and as politicians have our roles to play, but we believe that the church must play its part and must take a lead in spiritual matters, and as such, I am happy that more and more churches are heeding this call and are responding," exclaimed Minister Henry.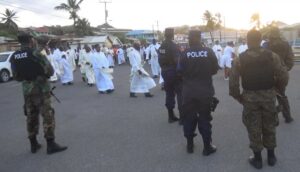 The latest March for Peace by the Catholic clergy and church faithful Minister Henry says, was a clear demonstration of a united front being put up against the wanton violence and its resulting deleterious effects on society.
"I was not able to be there with them but the other members of government who heeded the call of the church and followed through, I think this was simply amazing, and this is the way we should go," noted Henry.
Since assuming the portfolio for Ecclesiastical Affairs, Minister Henry has sought to strengthen the Ministry's ties with religious denominations.
Apart from meeting with them and other Faith Based Organizations (FBO's) individually, Minister Henry has held frank and open dialogue with the St. Lucia Christian Council, calling on that body to be even more vocal in matters of governance.
SOURCE: Ministry of Equity, Social Justice & Empowerment