A fifty-year-old businesswoman of Guesneau, Castries, has been reported missing after leaving her home on Tuesday for Baywalk Shopping Mall in Rodney Bay.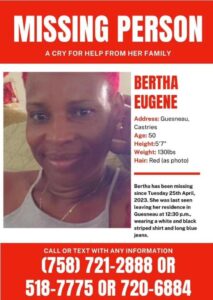 The woman's family said Bertha Eugene left her residence to get public transportation at about 12:30 pm.
Eugene, who owns a shop and operates a food business, was wearing a white and black striped shirt and long blue jeans.
Her concerned family members have asked anyone with information regarding the whereabouts of the mother of four to call the nearest police station or telephone numbers 721-2888, 518-7775, or 720-6884.