The grandmother of a child who died in a Friday afternoon fire in Gros Islet recalled that she was in the sitting room when the 10-year-old called her.
"The child called me -' Mama come and see that'. By the time he called me: 'Come and see that,' the fire start in the sitting room. By the time I reach on the child I push the child outside, he was on a wheelchair. When I push the wheelchair, I push him outside he fall outside. By the time I push him outside I couldn't lift him up because he heavy," the tearful woman told reporters.
She said she did not mind the house going up in flames but was in distress over the tragic death of her grandchild, whom she identified as Akim Monrose.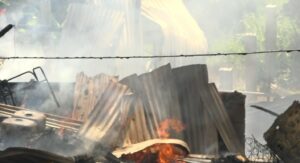 The grandmother disclosed that although Akim was infirm, he was a loving child.
According to reports, he had cerebral palsy.
The condition affects someone's ability to move and maintain balance and posture.
Emergency personnel from the Saint Lucia Fire Service (SLFS) said they found the child's body at the Morne Serpent, Gros Islet fire scene.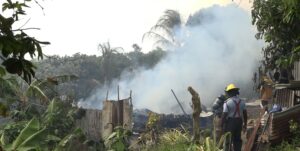 SLFS Communications Officer Stacy Joseph said the deceased had severe burns.
Joseph said the discovery came after emergency personnel responded to a structural fire report at approximately 1:05 pm and found a single-storey wooden house fully engulfed in flames.
She explained that the firefighters quickly contained the fire, which did not damage nearby properties.
The cause of the fire is under investigation.