With the curtains coming down on mainstage Saint Lucia Jazz and Arts Festival 2023 activities, not to be left out or outdone, wards of the Boys Training Centre (BTC), will later this week put on their own mini-musical concert.
 Budded BTC Jazz, under the theme, "Our Time To Shine," the event will be staged at the Centre grounds on Thursday, May 25, 2023 from 2 to 6pm.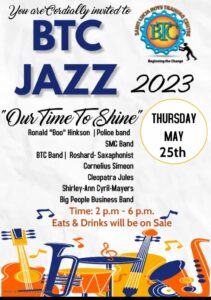 The Jazz Concert will not only feature the BTC Band, comprising completely of wards from the Centre, but will see a host of renounced local artists, among them Ronald Boo Hinkson, the Royal St. Lucia Police Band, Shirley-Ann Cyril-Mayers and Saxophonist Roshard among others.
BTC Manager Wang Sonson says the Jazz Concert is yet another avenue to showcase the varied skills, talents and abilities of wards at the Centre.
"The BTC Band has been in operation for a while and has performed at other fringe activities of Saint Lucia Jazz for 2023. We also wanted to further highlight the wards talents and show off their rehabilitative nature and thus music provides the perfect vehicle for doing that. The boys are truly excited and are looking forward to putting on an amazing concert."
Specially invited guests will attend and support the wards and the Jazz Concert.
The Boys Training Centre (BTC) is Saint Lucia's lone juvenile/rehabilitation center for boys between the ages of 10 to 18 years old.
Government has announced plans for the retrofitting of the former George Charles Secondary School building, to be transformed into a state-of-the-art facility, to replace the current Massade based location, from which the BTC operates.
SOURCE: Ministry of Equity, Social Justice & Empowerment