Boniface James, whose daughter was stabbed to death in Dennery early Saturday morning, has warned women to abandon toxic relationships with men.
James recalled waking to his dogs barking after 3 am and a man running up the footpath with devastating news.
The man announced that James' daughter, Bonita James, was lying on the road in a pool of blood after sustaining a stab wound to the neck.
"When I saw my daughter, she was dead," the father told St. Lucia Times.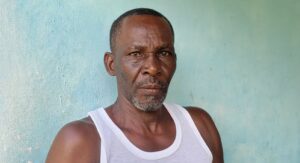 The father disclosed that Bonita was moving on from a toxic relationship with a jealous man who was 'blocking' her everywhere she went.
"We try how many times. How many times I try, but she would always tell me, 'Dada I want to leave that relationship, but I don't know what happen – what's taking place'," the father recalled.
He said Bonita was out enjoying herself when tragedy struck.
And he advised women in toxic relationships to leave and not return.
"Run from a sour relationship and don't come back or you will be in the grave," James warned.
He said Bonita was his only daughter.
She was the mother of three children.
James said she was a good daughter who liked having a good time.
Shortly after the early Saturday morning fatal stabbing in Dennery, police said a man who was 'a person of interest' was assisting them with their investigation.