National Green Party (NGP) leader Andre 'Pancho' de Caires has expressed concern over the recent prisoner escape from the Babonneau police station, asserting that 'something is fishy'.
"There's a need for concern. How secure is the Babonneau station?" de Caires stated.
"The Babonneau station is one of our new stations, so the facility should be much more secure," the NGP leader asserted.
"Where was the officer who was supposed to be checking the prisoners in the cell?" He asked.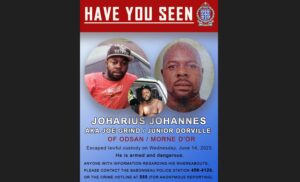 According to Saint Lucia police, on Wednesday, June, 14,2023 Joharius Johannes alias Joe Grind and Junior Dorville of Odsan- Morne D'or escaped Lawful Custody from the Babonneau Police Station after attending Court via Zoom.
"He was pursued but was not recaptured and remains at large," a police release stated.
And the police urged anyone with information regarding the whereabouts of Joharius Johannes to contact the nearest police station, the Babonneau Police Station at 456-4120,456-4122 or the CRIME Hotline at 555 for anonymous reporting.
Officers had arrested Johannes regarding a report of an assault with a firearm.
The International Criminal Police Organization (INTERPOL) had also issued a 'Red Notice' regarding him concerning a murder in Martinique.
"I am not sure if somebody within the force is assisting these people to escape because how can this be happening again?" NGP leader Andre de Caires  stated.
In October 2020, the murder accused, Orville Purnell, escaped the Babonneau Police Station and fled to Jamaica.
Jamaica police recaptured Purnell, but he escaped again while awaiting extradition to Saint Lucia.