Antonious Ford, 63, lies in a bed at the OKEU Hospital, feeling pain but thankful to be alive after a venomous fer-de-lance bit him at Belvedere, Canaries, on Saturday.
He recalled leaving his farm to look for yams when the snake bit him on his leg above his Wellington boots.
Ford told St. Lucia Times he tied the bite area, grabbed a stick, and walked to the main road.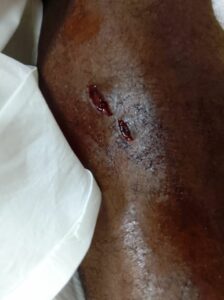 "When I reached close to the main road, I met a friend who had a car," he disclosed.
Ford said he was on his way to the Soufriere Hospital when he was transferred to an ambulance dispatched by the Soufriere fire station after receiving a call for assistance.
He said the ambulance took him to the OKEU Hospital.
Ford said the medical staff at OKEU was caring for his injury, and he felt slightly better after Saturday's incident, although his leg was still paining.
He explained that, at first, he thought the snake was a boa constrictor.
Ford said he had seen boas in the area before.
"But that one, when I looked at it after it bit me, it wasn't a boa," he told St. Lucia Times.
According to Ford, the creature was under a little tree at the roadside.
"So when I try to cross, when I put my leg down, I saw it underneath my leg. So I try to crush it, but by the time I try to crush it it bite me," he said.