Fire destroyed a Bexon residence early Wednesday morning, leaving one man homeless.
Charles, the resident, recalled that he was at his cousin's when he received word of the fire but dismissed it as a joke.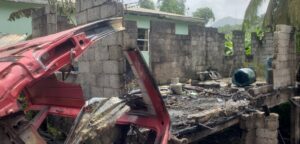 He told reporters that he alone lived in the house.
"I had no current. I had no TV. Nothing special. Just my clothing. Right now, I have nothing, just what I have on me," he lamented.
"I now have to look for some place to sleep for the time," Charle stated.