Thousands of Saint Lucians exhaled Friday after waiting with bated breath for local Sprint Queen Julien Alfred's participation in the 200m finals at the World Athletics Championships in Budapest, Hungary.
Ultimately, Jamaica's Shericka Jackson blazed in first with a national and Championship record of 21.41 seconds.
Gabby Thomas of the United States ran 21.81 seconds for silver, and her compatriot, World 100m champion Sha'Carri Richardson, stormed to a new personal best of 21.92 seconds for bronze.
Julien Alfred came in fourth in 22.05 ahead of Britain's Daryll Neita.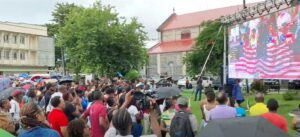 Many, including Prime Minister Philip J. Pierre, Saint Lucia flag in hand, and other Cabinet Ministers, braved the rain at Derek Walcott Square, where a 'national watch party' had been organised for interested individuals to view the historic race.
The Commentator described the contestants as 'about the best lineup you could have' for the women's 200m.
As Julien Alfred appeared, a roar went up from the Derek Walcott Square crowd and continued as the race started.
In an interview with reporters after the race, Prime Minister Pierre congratulated Alfred, noting it was only the athlete's second professional outing.
Pierre said he was very pleased with the outcome of the race and declared that the next time would be better.
Others echoed similar sentiments, declaring that Alfred was a champion who has done Saint Lucia proud and would continue to do so at future events.
Opposition leader Allen Chastanet expressed 'immense pride and admiration' for the achievements of Julien Alfred and Michael Joseph.
"Their extraordinary journey at the 2023 World Championships is a testament to their dedication, hard work, and unwavering commitment to excellence," the United Workers Party (UWP) leader wrote on Facebook.
"As a nation, we should all share in the joy and honor of having two of our own compete at such a prestigious international event. Their accomplishments not only showcase their individual talents, but also highlight the potential and spirit of our entire country," the former Prime Minister stated.
(Story updated)