Castries Mayor Geraldine Lendor-Gabriel concluded a recent tour of vending operations along William Peter Boulevard, disclosing that Boulevard vendors and the Castries Constituency Council (CCC) had committed to collaborating to improve vending in the area.
Boulevard Vendors' Committee members accompanied the Mayor and key CCC personnel on tour.
The Mayor said the objective was to assist vending with due regard for safety while considering the interests of various stakeholders.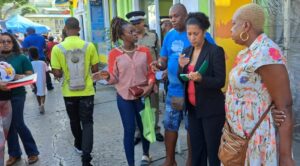 "The vendors had provided the level of discipline and leadership required to address this particular situation," Lendor-Gabriel observed.
"They organised themselves into a group working alongside the CCC to formalise vending arrangements and rules and guidelines for vending," the Mayor noted.
"There was a recognition by all parties that this is not an easy situation, as balancing the needs of all stakeholders will require understanding as well as compromise," she said.
However, the Castries Mayor told St Lucia Times all parties hope that with continued engagement, dialogue, and improvements over time, vending within the Boulevard could take place with due regard to aesthetics as well as the safety and well-being of all.