Students at our Soufriere Comprehensive School can now enjoy learning new skills in their fully refurbished Food and Nutrition room.
The main donors, Anse Chastanet and Jade Mountain resorts, contributed to the project.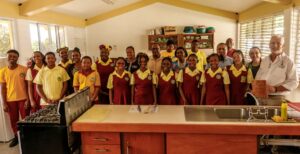 Under the guidance of Simeon Jn Baptiste and Asset Enhancement Manager Carl Hunter, the resorts' carpentry team conducted the physical upgrades and purchased new stoves, fridges, and other equipment.
Executive Director, Marketing and Operations of Anse Chastanet and Jade Mountain Resorts Karolin Troubetzkoy announced plans for a culinary boot camp for later this year as part of the commitment to stay involved in assisting the Soufriere Comprehensive Secondary School through the resorts' chefs and restaurant service teams.
In a Facebook post, Troubetzkoy identified Chef Elijah Jules as the school's 'most fervent advocate' regarding the pursuit of Culinary Arts.
And she thanked District Representative Emma Hippolyte for reaching out to the Soufriere business community to highlight opportunities for collaboration and cooperation.
Photos from Facebook