A Protest erupted in Guyana on Wednesday over the arrest of a suspect by the police.
According to a Ministry of Home Affairs release, the incident occurred after officers intercepted a motor vehicle with 51.2 pounds of cannabis near Buxton village.
The police seized the drugs and took a suspect into custody.
According to the Home Affairs Ministry release, some warning shots were fired during the operation to stop the fleeing vehicle, which ended up in a nearby trench.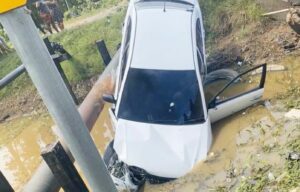 But the release noted that many individuals engaged in a protest, blocking the roadway and demanding the suspect's release.
The police said members of the public became hostile, assaulted several officers and damaged their vehicles.
However, the sate-owned Guyana Chronicle quoted residents saying that law enforcement officers indiscriminately opened gunfire, causing unrest.
Stabroek News reported that traffic was interrupted just after 11 am up until around 5 in the afternoon.
According to the publication, the standoff ended after a village leader urged those on the road to remove.
The police and fire service units later cleared the roads and advised people to desist from such illegal activities.
Headline photo: A container truck that was set ablaze during the unrest (Guyana Chronicle)