The President of the National Council on Public Transportation has warned of the potential for disaster due to the numerous potholes on Saint Lucia's roads.
Godfrey Ferdinand expressed particular concern about the state of the road to Soufriere on which he travelled during the weekend.
"It is unbelievable where the potholes are – in corners and not just potholes. Some of these things are so big if your vehicle were to go in you would have some serious expenses in terms of suspension parts," Ferdinand told St Lucia Times.
And he warned that the potholes could contribute to accidents.
"They arte in the corners and you have to try to avoid them and they are so deep. Some of them you cannot ride over," the NCOPT President explained.
He called on the authorities to at least fill the potholes so there would be a smoother driving experience to Soufriere.
"There are other areas that are very bad. Imagine going up a hill with fourteen passengers and the road is so bad you have to now apply your first gear. If that driver just makes an error, that vehicle can end up in an accident," Ferdinand asserted.
"To me, if we are talking about safety in this country, there are certain things we should not allow. We should not allow potholes to stay in corners for too long," the NCOPT official declared.
Ferdinand described the situation as unbelievable.
He observed that the weather was not bad so that the authorities could fill the potholes.
"It is a disaster waiting to happen, especially on the Soufriere road," Ferdinand told St Lucia Times.
"I know other places have potholes, but those I saw on the Soufriere road – it's ridiculous," he declared.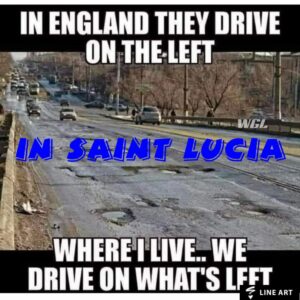 Despite the situation, some Saint Lucians have opted to focus on the lighter side of the problem.
One driver posted on his back windscreen that he was not drunk but merely trying to avoid the potholes.
And a post on social media declared that while people in England drive on the left, Saint Lucians drive on 'what's left'.