The Government of Saint Lucia through Export Saint Lucia has handed over sixty (60) sea moss drying tables and floating devices to sea moss farmers in Eau Piquant, Vieux Fort.
This is the second donation of its kind, with the first set of equipment being donated to the Praslin Sea Moss Farmers Association in March 2023.
During an April 19th ceremony at the Pierrot Combined School, representatives of Export Saint Lucia stressed the importance of high production standards to maintain the status of Saint Lucian sea moss on the global stage.
"Consumers all around the world continue to refer to Saint Lucian sea moss as the best there is. This industry has played an integral role in developing and stabilising several communities and hundreds of families in Saint Lucia. Considering most of the sea moss produced in Saint Lucia is exported, our Agency is willing to do all that it takes to encourage the best production practices and preserve our global reputation," shared Sunita Daniel, Chief Executive Officer of Export Saint Lucia.
The donation of sixty (60) tables was symbolically handed over to Hon. Moses Jn. Baptiste, Parliamentary Representative for Vieux Fort North by the Minister of Agriculture, Fisheries, Rural Development, and Food Security, Hon. Alfred Prospere.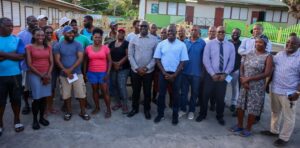 Hon. Prospere in his remarks expressed "We are seeing a subsector that is growing rapidly and this is why the Government of Saint Lucia has allocated three hundred thousand dollars ($300,000) for the development of the sea moss and honey sectors. I hope our sea moss farmers will take full advantage of this support to ensure our world-class status is maintained."
In the past five (5) years, export figures for raw sea moss have reached as high as nine million dollars ($9,000,000). Farmers like those in Eau Piquant benefit directly from these exports.
Hon. Moses Jn Baptiste, Parliamentary Representative for Vieux Fort North addressed members of the sea moss farming community and said, "Most of the money generated from the export of sea moss is circulating in Vieux Fort North. It is therefore important to take care of this donation. To ensure the sector's growth, we have already had discussions on how we can possibly develop a value-added processing facility in Vieux Fort North."
Present at the handover ceremony were members of the Eua Piquant Sea Moss Farmers Association along with other sea moss farmers who are not members of the association.
The tables will eventually be donated to farmers who currently lack the necessary equipment to produce in accordance with locally and internationally accepted standards and practices.
SOURCE: Export Saint Lucia.