On Sunday, a man accused of stealing a cow received blows at the hands of Lumiere, Dennery residents who ensured that he led the animal back to where it belonged.
A social media video showed men hitting the suspect with a whip, slapping, punching, and choking him.
He tried to run away at one point, but the men pursued and held him as he complained that he was bleeding. He had suffered a laceration to his arm.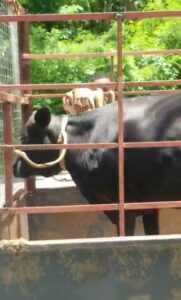 According to reports, the suspect advertised the cow on social media.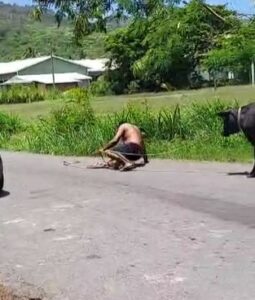 The reports indicated that the cow's owner, who got wind of the sale, caught the seller in the act while the cow was about to be transported by a buyer.
The alleged thief was made to untether and remove the animal from its cage and ordered to return it, slipping and falling as the cow suddenly bolted while he attempted to lead it away.
Dennery police and an official of the Praedial Larceny Unit said they had no report of the cow theft.
Headline photo: Alleged thief returning animal (Screen grab from social media video)