A minibus with passengers on board, including school children, crashed into a house at Pavee, Castries, on Tuesday at about 4:00 pm.
According to eyewitnesses, some of the passengers sustained injuries that appeared minor.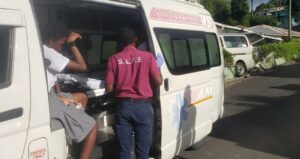 And a grandmother in her eighties who was in the house on Pavee Road when the accident happened was not in her usual spot where the bus hit.
"Thank God she was watching her favourite television programme inside," the woman's relieved grandson, who was also in the house, told St. Lucia Times.
Nevertheless, the grandson said the incident had left her a little shaken.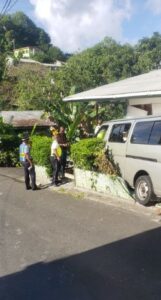 The bus driver recalled hearing a noise in his vehicle.
" All I try put it in first gear, put it in second gear, put it in reverse -nothing," he told St. Lucia Times.
The driver blamed brake failure for the incident and praised God that there were no fatalities.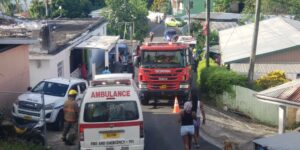 Eyewitnesses reported that the Saint Lucia Fire Service (SLFS) responded with a fire truck and two ambulances.
The eyewitnesses said emergency responders were assessing the bus passengers while police officers conducted an investigation.
On May 7, a 47-year-old female pedestrian died in hospital one week after a minibus struck her while descending Barnard Hill in Castries.
Instead of completing a right turn into Castries, the bus ran into another vehicle, hit the woman and struck a perimeter wall.
Brake failure was blamed for the incident.