Saint Lucia-born Shanan Emmanuel grew up in the Jacmel community amid several challenges but endured, eventually becoming a scientist working with a Massachusetts company.
As a result, she is encouraging young people to focus on positive goals.
Emmanuel, who left Saint Lucia when she was about seventeen, told reporters of the challenges she faced growing up in Jacmel.
"Growing up in Bois Den, Jacmel and being from a very small family our struggles ranged from somewhat financial to just the environment itself," she recalled.
Emmanuel attended the SDA Primary School and the Leon Hess Comprehensive Secondary School, and Sir Arthur Lewis Community College.
Emmanuel's academic achievements include a Bachelor's Degree in Biology from the University of the Virgin Islands and a Ph.D. in Biochemistry and Molecular Biology from the University of Florida.
"Schooling was very important from the get-go to ensure that my life and my future were not plagued by what I saw around me and so for me essentially it was very important to stay in school, to be focussed," she stated.
According to Emmanuel, she recognised that schooling was what would propel her career-wise.
"Currently I focus on gene therapeutics, that is essentially a way to treat uncurable diseases through gene therapy," Emmanuel explained.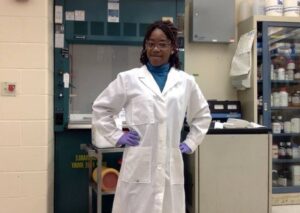 Now back in Saint Lucia for a brief visit, she and her mother plan to give back through a back-to-school giveaway and scholarship programme.
"This was an idea we came up with in 2019, but unfortunately, because of COVID we were not able to visit but we had already purchased all the items – essentially back packs, school items like pens, pencils, sharpeners, everything. Essentially that will be given to students who are in need. So the hope is to launch that officially by next year during the summer at the Marigot Secondary School," Emmanuel told reporters.
The thirty-year-old explained that the hope is to provide resources for youngsters in need.
And amid the gun violence surge plaguing Saint Lucia and has affected Jacmel, where she is from, Emmanuel appealed to young people in learning institutions not to give up.
"Hold on to your dreams. No matter how hard life may seem focus, keep focused. Make sure you surround yourself with positive people. I am from a Christian background and so I make sure that I pray. Make sure that you don't put yourself in situations that might be damaging to your identity," Emmanuel stated.
She declared that life is hard for everyone, but sometimes people need the drive and focus that will propel them.