Long before Tropical Storm Bret washed marine litter ashore on Vigie Beach on June 23, Greening the Caribbean (GtC), a private environmental management business that provides waste management, recycling and consulting services, has been exploring how best to reduce beach littering in Saint Lucia.
Greening the Caribbean, in partnership with the National Conservation Authority (NCA), the organization mandated to upkeep our beaches, as well as SLASPA launched the Vigie Beach/Marine Litter Prevention Initiative on July 4.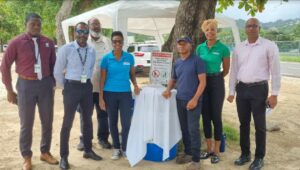 The research phase began October 2022 with a grant from Gulf Caribbean Fisheries Institute, with corporate matching grant support from Massy Stores (SLU), Harris Paints, JE Bergasse, Coco Palm Resorts, East Winds Resort, Heineken (SLU) and Cre8tive Imagination.
The research survey of 624 beachgoers, not only highlighted the following reasons why people litter at the Vigie beach, but it helped formulate strategies including targeted messaging at each rubbish bin:
65% of beachgoers selected "no bins" as the reason for littering.
70.4 % believing that more bins will lead to less litter.
62.5% of beachgoers agree that "no penalty" is the reason people litter.
The coordinating team used a behavioral science methodology to conduct the research, which was spearheaded by Nathan Lee as the project coordinator. "It's undeniable that we must innovate and find new approaches to solving persistent environmental challenges in St. Lucia, such as beachgoer litter," Lee said.
The environmental intervention being piloted includes placement of rubbish bins every 20-40 feet at
Vigie Beach between the cemetery and airport entrance. The placement has increased visibility and access to rubbish bins. Each bin has a message to beachgoers; and the bin wrap playfully reminds beachgoers to keep "toes in the sand, trash in the can."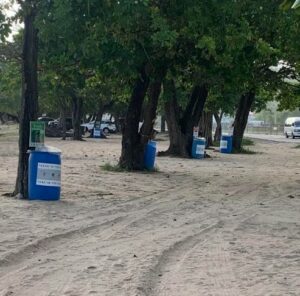 This initiative is being monitored by GtC, and improvements will be made to ensure effectiveness in reducing beach litter.
NCA remains responsible to clear and maintain the bins and can now use this boost in resources to deploy their Beach Rangers. A similar installation is planned along a section of Reduit Beach.
In addition, a 6 by 3 foot "DO NOT LITTER – IT'S THE LAW" banner was mounted on the fence at GFLC Airport. This is the first time SLASPA has authorized signage on its fence. Underpinning their authorization was a unique opportunity.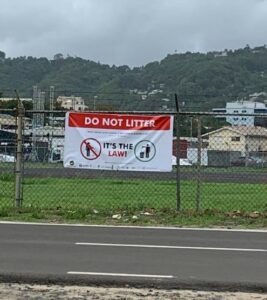 Lynden Leonce, technical officer Air Navigation Services with SLASPA noted "Litter can increase bird activity around the airport … increasing the likelihood of bird-strike incidents. Reducing litter at the beach decreases the amount of litter that would blow across the road and gets lodged on airport fence."
The harmful impacts of beach litter include but are not limited to:
Harm to marine life which disrupts the ecosystem.
Places the livelihood of households dependent on the blue/ocean economy.
Beach/marine litter restricts Saint Lucia's competitiveness as a destination by detracting the attractiveness of one of its greatest assets, its beaches.
Beach litter is a significant source of pollution that is impacting the Caribbean's Blue Economy. If proven effective in reducing beach litter the initiative would be scaled to other NCA managed beaches.
GtC has been actively working with various organizations and has co-sponsored four consecutive years of beach and roadside clean ups on the third Saturday of every month, in concert with JICA and Peace Corp Volunteers. This included brand audits and data gathering on types of litter collected.
The corporate community now has an opportunity to support long-term solutions with Greening the Caribbean to reduce both beach/marine litter and transition to a more environmentally friendly practice of waste disposal/management.
SOURCE: Greening the Caribbean