Attorney at Law, Wayne Harrow, has expressed concern over the situation with the District Court in Vieux Fort, declaring that the institution has not functioned for the past eighteen months.
"I must say that we are fed-up in the South," Harrow told St. Lucia Times.
"This is causing problems with litigation and delivering justice to persons who have been accused. Persons who have made complaints to the police and have matters in Court have not been given an opportunity to have their matters heard," the Attorney at Law stated.
He said having no Court or Crown Prosecution office operating in the Second District Court compounds the problem.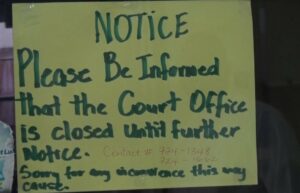 "Although the Court Office and the Crown Prosecution Service have actually moved to a new office, they cannot function because I believe there's some air quality issue," Harrow explained.
He said parties must go to Castries for Family Court matters while maintenance payments, traffic court, and fines are being dealt with in Soufriere or Castries.
Harrow noted that the Vieux Fort Court hears serious matters, including possession of firearms, possession of controlled substances, indecent assault, and cases of wounding.
"In terms of the authorities, I get feedback occasionally from the Court Office workers and from the Crown Prosecution workers, but in terms of officially, we have not, and when I say we, the lawyers have not heard anything from any person in authority," he told St. Lucia Times.
Harrow said that included the DPP's Office, the Attorney General's Office, the Ministry of Justice, the Office of the Prime Minister, and the Office of the Chief Justice.
"There's nothing official that has been released to any of us or even the litigants, so we are basically on a wait and see right now," the Attorney at Law stated.
And he observed that people need closure regarding their court cases.
"Some of them have paid a lot of money to get bail. Their passport is in the hands of the Court. They are restricted from travelling. They have to report at least once or twice or three times a week to the police station and some matters are really old matters – five years or more and they cannot be heard," he observed.
Harrow told St. Lucia Times that individuals want to know the outcome of their cases, whether they would be found guilty or not, pay a fine, be on probation, or end up at Bordelais Correctional Facility (BCF).
"They want closure to the accusations against them or the accusations they have made against other people," he declared.