A Saint Lucia Fire Service (SLFS) ambulance transported a truck driver to the OKEU Hospital Tuesday after a collision involving the truck and two cars.
The collision occurred along the John Compton Highway near the police Traffic Department.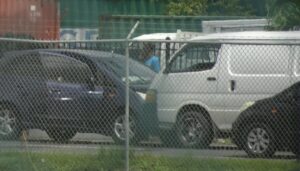 Emergency personnel responded after receiving a call for assistance at about 1:43 pm.
The extent of the truck driver's injuries was not immediately apparent.
But the drivers of the other two vehicles involved in the collision declined emergency transportation to the hospital.
Tuesday's collision occurred amid expressions of concern from the Saint Lucia Fire Service over the frequency of road accidents.
So far this year, fire service personnel have responded to 623 vehicle incidents, transporting 849 patients to the hospital.
The responses were generally evenly spread throughout the months, although May accounted for the most with ninety-three.