The owner of a vehicle stolen from Castries said the Suzuki Escudo was found Tuesday in Babonneau, with its contents and several parts missing.
Al Edward explained that he lost his vehicle key after resting it on a wall Monday night because his trousers had no pockets.
Edward forgot to pick up the key to the vehicle parked outside his home and discovered later that the Escudo had disappeared after he retired for the night.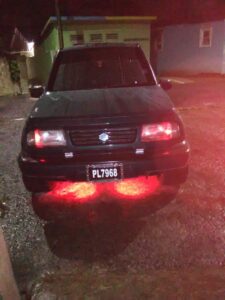 The Castries resident reviewed home CCTV camera footage and realised the theft occurred in the wee hours of Tuesday morning.
When Edward eventually found the Suzuki Escudo, it was missing the costly sound equipment he used to help support himself financially by playing music at various events.
Several vehicle parts were also missing.
One man is assisting the police with their investigation.