Paula Valcin, the mother of fatal shooting victim Patrick Joseph alias 'Prince', recalled hearing seven gunshots before learning that her son had died.
'Prince' sustained multiple gunshot injuries at Barre St. Joseph Thursday morning.
Overcome by emotion, his mother told reporters her son was on his way to work.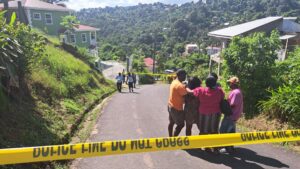 Valcin told reporters that her son was the father of three children and was preparing them for the start of the new school year.
She recalled that the deceased had assured her that he would give her cash to get the children ready when he received his pay.
"Right now I have to take care of those children," the distraught mother explained.
She said she was unaware of a possible motive for the fatal shooting.
And regarding whether her son had issues with anyone, Valcin said she did not know.
"I don't know because you don't know what your children get into," she told reporters.
Nevertheless, Valcin described her son as a loving boy.
"I had loved that boy," she said, disclosing that 'Prince' was one of her two sons, the other being in the United Kingdom.
"They say mothers always say they love their children, but deep in my heart, I love my son," Valcin declared.
In addition, the mother said she would try her best to bury her son and go on with life.
Headline photo: Patrick Joseph – Deceased