Prime Minister Philip J. Pierre has spoken of the need for national unity and an end to division in remarks to his Castries East constituency's annual honour ceremony and Math Quiz.
He told Saturday's event that there must be a level of understanding that Saint Lucia must develop for everyone's benefit.
And the Prime Minister called out unnamed agents of hatred and division.
"The hate and the mistrust and the agents of hatred, agents of division, that must stop," Pierre told Saturday's event.
In an apparent reference to the July 26, 2021, general elections, after which his Saint Lucia Labour Party (SLP) surged into office by a landslide, the Castries East MP declared that the people had made up their minds.
"They will have a chance to change it or to make it again every five years," Pierre explained.
But he observed that at this time, the country needs to come together to develop its people.
"We have to ensure that every child gets to go to school so they can live to their fullest potential," Pierre told his audience.
He urged an end to the manufactured division from things that do not exist merely to serve selfish political motives..
Pierre noted that his administration has paid facility fees for every school child and given laptops to every student entering school who does not have to visit any constituency office to benefit.
"Every child who does English and Maths gets their CXC fees paid," the Prime Minister observed.
"We hope that before the end of this term, we will pay CXC fees for every child for the five subjects that are compulsory. That is the aim of the government," Pierre disclosed to applause.
During Saturday's ceremony, the top performing student from each school in the Constituency received school supplies, e-tablets, and a monetary donation.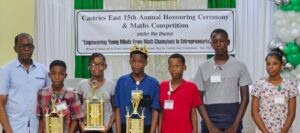 Six students from the Constituency participated in the Math Quiz, each receiving school supplies and the winner, a laptop.
Pierre declared there was nothing political about the activity.
He said principals chose the students purely on merit, while a Math Specialist framed the questions 'purely on meritocracy'.
"What's happening there this afternoon – no one knows anyone's political colour. No one asked anybody who you voted for or you will vote for," the Castries East MP declared.