Tragedy struck in the fishing village of Dennery Wednesday morning when an ambulance transporting a patient to the OKEU Hospital in Castries veered off the road and slammed into a house.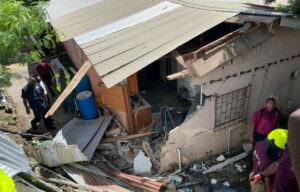 Acting Fire Chief Ditney Downes said the 79-year-old male patient was pronounced dead after the accident, while a young female accompanying the deceased sustained injuries.
In addition, Downes told St. Lucia Times that emergency responders had to extricate the ambulance driver trapped in the mangled metal of his vehicle.
The driver, a female Saint Lucia Fire Service (SLFS) emergency responder who was in the ambulance and the young woman accompanying the 79-year-old patient who died were all transported to the hospital.
The accident occurred shortly before 9:00 a.m.