The brother of a fatal accident victim suspects that engine failure may have caused Sunday's vehicle crash at Sarrot and claimed the life of Peter Leon.
Peter, 58, was the sole occupant of a vehicle that plunged down a precipice, ejecting him.
Emergency responders from the Saint Lucia Fire Service (SLFS) headquarters in Castries responded after receiving a call for assistance at about 1:38 pm.
But a medical practitioner pronounced Peter Leon dead when the emergency crew rushed him to the hospital.
The deceased's brother, Nicholas Leon, recalled receiving a message that his sibling was in an accident.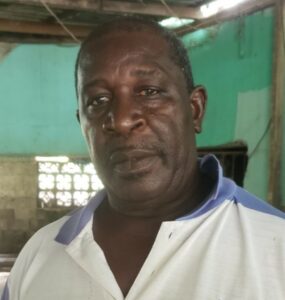 Nicholas said he arrived on the scene and went down the precipice.
However, he stated that his brother was already dead.
"Apparently, he was going up a hill, and maybe the van cut off and he go down in the precipice," Nicholas told reporters on Tuesday.
He explained that his deceased brother was one of his workers and described him as 'an iree fellow.'
"That was my last brother, and he always there with me. This morning when I get up, I say, 'Waah, I won't see mate coming to work. So it's not easy," Nicholas lamented.
Nevertheless, he said that he had to be strong in the circumstances.
"The man was with us Friday, giving jokes and everything," Nicholas recalled.
Police are investigating the accident.
Headline photo: Peter Leon (Deceased) and mangled metal of vehicle that plunged down the precipice.