The opposition United Workers Party (UWP) held its anti-government protest march and public meeting in Vieux Fort on Saturday, declaring plans to take its protest to Castries.
Former UWP MP Herod Stanislas dubbed the event the beginning of a movement to remove the most incompetent, clueless, visionless, and vindictive Prime Minister and government.
The Vieux Fort protest organisers expressed pride in the march and public meeting turnout.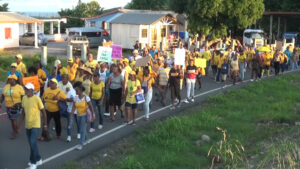 UWP Public Relations Officer Lenard 'Spider' Montoute thanked the crowd at the Cantonment playing field public meeting.
"You have shown your commitment to your country. You have shown your patriotism. You have shown your disgust and you have let them know that enough is enough," the former Gros Islet MP asserted.
"But as the political leader indicated to you, we have just begun. This is a movement and it will mushroom," Montoute stated.
"Nothing can stand in the way of momentum. We are just gathering momentum," he declared.
He described Saturday's protest as 'minor'.
"If they think that they have seen something today. I want to announce to them that they ain't see nothing yet because today's protest is a minor protest. This is just the beginning of things to come. We are going to organise another protest, this time in the City of Castries," the former Gros Islet MP stated.
He felt the protest turnout in Vieux Fort would encourage others who were hesitant about coming out.
"There is nothing to be afraid of," Montoute said.
However, opposition leader Allen Chastanet said too many Saint Lucians are not standing up and speaking out.
"What has worked in the past where you simply say to yourself, 'I am waiting for the next election to vote them out.' In this instance, I do not believe that we have the time to wait for the next election," the former Prime Minister told the audience.
He said something has to change.
Chastanet also criticised Castries Central MP Richard Frederick.
"Richard has been convincing people in Saint Lucia for the longest time and trying to convince all of you that Allen Chastanet is a white man," the UWP leader stated.
"Now, that is important because as a white man, what he is saying to you and he is saying to me is I cannot speak to you as a Saint Lucian. He is saying that I am different and I don't care," Chastanet explained.
"But I want all of you to know tonight that I am here because I want to be here, not because I have to be here," the Micoud South MP noted.
"Whenever I want to go on a plane and fly anywhere, I can go. I don't need to be on business for Saint Lucia. I need to be on my own business. I can go anywhere. I can live and get a job anywhere in the world," he told the crowd.
In addition, Chastanet said when he travels, it is not to enjoy himself but to return with new ideas for Saint Lucia.