After a deadly gun violence upsurge in Vieux Fort, resulting in seven murders in the community in separate incidents, a senior cop told reporters on Monday that residents are pleased with the police response.
"Residents are very pleased," Deputy Police Commissioner Ronald Phillip said regarding the police operations in Vieux Fort.
"They are very happy with what they are seeing. We have intensified our efforts. We have intensified patrols. We have engaged in more searches. So far the operations are going on smoothly," Phillip stated.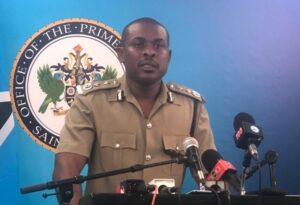 Vieux Fort South is now an escalated crime zone under legislation giving police expanded powers to deal with criminal activity.
The Deputy Police Commissioner said the police were happy with the legislation.
"It is important to note that the legislation speaks to good faith, so once police officers are operating in good faith, it gives them more search powers. In terms of the arrests, how long somebody can be detained for, so these things are good for law enforcement," Phillip explained.
Responding to human rights concerns over the expanded police powers, the senior cop asserted that the RSLPF is a professional organisation that, in briefing officers, highlights respect for the rights of others.
He told reporters that acting in good faith, as in the escalated crime area legislation, officers must uphold the values of the Royal Saint Lucia Police Force (RSLPF), which speak to professionalism.
"If persons have any complaints or think their rights are being trampled on, there are mechanisms in place. There's the Police Complaints Unit. If you figure that the police officer did something wrong, you can take your grievances to a lawyer," Phillip, responsible for Strategic Operations, noted.
In addition, he pointed out that the police were not out to antagonise anyone.
Regional Security System (RSS) troops have joined Saint Lucia police in joint operations in Vieux Fort.
And there have been several arrests for drugs and firearm and ammunition possession.
Police have also charged 22-year-old Arenato Soumere of Martin Luther King Street, Vieux Fort, with the fatal shooting of 59-year-old Loraine Savery on March 9.
In addition, investigators say they are pursuing several leads regarding the other fatal shootings.
Headline photo: Police in Vieux Fort (Image courtesy Royal Saint Lucia Police Force)