The Vice President of the Caribbean Federation of Police Welfare Associations (CFPWA) has indicated that the organisation wants more money and fewer working hours for officers.
"The reality is we are overworked and underpaid – that is one of the key issues," Sean Mc Call told reporters on the sidelines of last week's CFPWA 11th annual general meeting in Saint Lucia.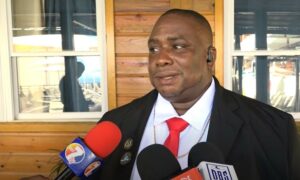 He said police officers work more than forty hours per week, a situation Mc Call described as unheard of in 2023.
"Our Commissioners have to sit down with us and address these things," the CFPWA Vice President asserted.
"For instance, what if an officer is on the job – twelve, thirteen, fourteen hours, doing more than forty hours a week and has an error of judgement, will the Commissioners take that responsibility or would he leave that officer at the mercies of the court?" Mc Call stated.
"If you treat your workers well, your workers will treat the public well. Our service delivery will be A one," he declared.
He disclosed that those were the kinds of issues for which CFPWA member associations are advocating.
The organisation's member countries are Barbados, Jamaica, Trinidad and Tobago, Guyana, St Vincent and the Grenadines, Grenada, Antigua and Barbuda, The Bahamas, Dominica, St Lucia, St Kitts and Nevis, and the British Virgin Islands.
The CFPWA was established in Nassau, The Bahamas, on the 25th of May 2007.
Headline photo: File image of police officers on patrol in Vieux Fort.