Prime Minister Philip J. Pierre visited several areas affected by Tropical Storm Bret, urging people to remain vigilant and ready as the hurricane season had just started.
Pierre also praised volunteers and emergency personnel for their dedication to the country.
"I would like to thank the NEMO and all volunteers, the RSLPF, the SLFS, Hospital Staff, the GIS, DIPT, FLOW, DIGICEL, LUCELEC, WASCO, SLASPA, radio and television stations, and all other emergency personnel for their service during this time. Your dedication to our country is noteworthy," Pierre wrote on Facebook.
After Friday's all-clear, the Castries East MP visited his constituency to meet residents and assess storm damage.
Disaster Preparedness Committee officials were also conducting damage assessments for a report to NEMO.
Prime Minister Pierre said that, fortunately, there were no fatalities and minimal damage.
Pierre also visited Dennery, where he observed banana farm damage, stating that he would await an Agriculture Ministry official report in devising the way forward.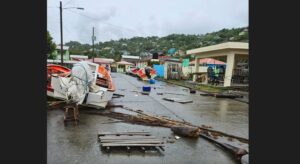 "My tour on the east coast ended at the Daito in Dennery, where fisherfolk had secured their vessels on land to mitigate against losses due to high tides. I commend them for heeding the warnings of the authorities. We will address the roofing issues at the port caused by the strong winds in the upcoming weeks," the Prime Minister said.
His tour ended in Anse La Raye.
Pierre warned that the 2023 Atlantic Hurricane Season was just beginning.
"I encourage you to practice proper waste disposal and to secure your property against loss and damage. Let us remain vigilant and ready. May God bless us all. Stay Safe, Saint Lucia," he stated.
All photos courtesy PM Pierre's Facebook page.